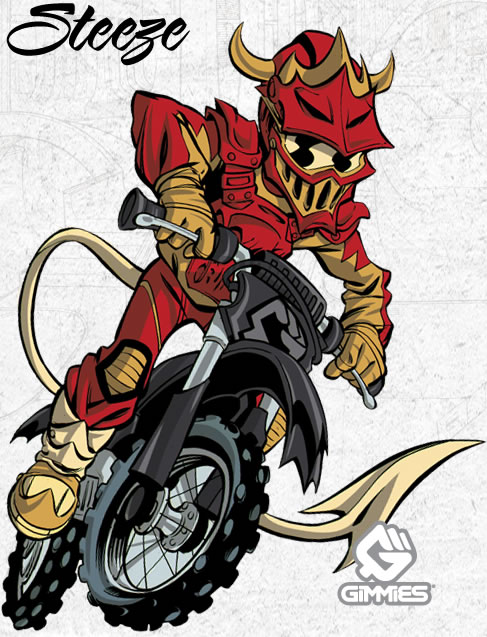 NAME ORIGIN:
Style with Ease = "Steeze." Never seems to be trying but always succeeds. This guy just might have menthol running through his veins...
PERSONALITY:
Dark. Silent. Mysterious. Steeze is a kind of po-mo version of a medieval knight but his only allegiance is to the Gimmies and he answers to no one, not even Uncle G. Unlike many of the other hyperactive Gimmies, Steeze gives the impression of being older, wiser and yet he never ever speaks. Body language is everything with him: read it wrong and you'll wish you didn't. Some might call him "devilishly handsome" yet seeing as his helmet and goggles stay on even when he's eating BBQ, submerged in sewage, or sleeping, nobody really knows. Half the Gimmies think Steeze hates them; the other half just really hope he doesn't.
VEHICLE:
Few paved roads in Giv'rside mean Steeze's Steed is the perfect ride. This high performance dirtbike is super custom, hand-built by him. It runs on waste veggie oil and combines the long range dependability of a Dakar with the lightness and freestyle capabilities of an FMX stunt bike. He can ride slow technical terrain, Trials-like, cover huge distances in loose sand, or style out a tail-whip of epic proportions off the numerous natural hips and step-ups in the dunes. The last guy to ask, "Did you see that?!"
'HOOD:
Giv'rside, a poor, deserted dune area in East County where the only living things are almost postapocalyptically tough. The sun bleaches all and many creatures, incl. humans, are blind from it, their eyes white and milky. A dead inland sea (viz. Salton) called The Dark Sea is the focal point of the area, with dilapidated luxury homes arranged along its shores and private docks being slowly digested by the toxic water. On the far shore is a massive refinery, abandoned and seeping its goo into the inland sea and River of Golden Dreams so that the entire side is a uniform gray, totally devoid of life. (Exc. Steeze who lives in the refinery). Although wealthier folks on the coast turn a blind eye, The Dark Sea is home to fish with hands, two-headed talking seagulls and sharks with long fur, and is a constant reminder of Senator Slick's legacy of death and decay in Session County.
Read more about Steeze in our oversized, 40 page comic book. Contact us to inquire about getting your hands on a copy.